Stratio is excited to announce our new connector for Tableau. Stratio is now a Tableau Connector Gallery launch partner! This means users can now find and download the connector of Stratio Crossdata directly from the Tableau Extension Gallery. This new approach enables Stratio to continue building and simplifying the way Stratio users connect to Tableau.
Tableau helps people see and understand data. Tableau's self-service analytics platform empowers people of any skill level to work with data. From individuals and non-profits to government agencies and the Fortune 500, tens of thousands of customers around the world rely on Tableau's advanced analytics capabilities to make impactful, data-driven decisions. For more information, please visit www.tableau.com.
Stratio Crossdata is a data virtualization tool powered by Apache Spark (Spark SQL) which, among other things unifies access to any data source with a SQL language, supports online and analytical cases, is an adaptable and highly available system, offers Scala and Java API, JDBC / ODBC and centralizes security and allows to adjust the access level.
With the release of Hercules 9.3, we announced the availability of the new JDBC connector of Stratio Crossdata which offers significant performance improvements and new capabilities when working with very large catalogs, enabling users to quickly explore very large Stratio catalogs from within Tableau.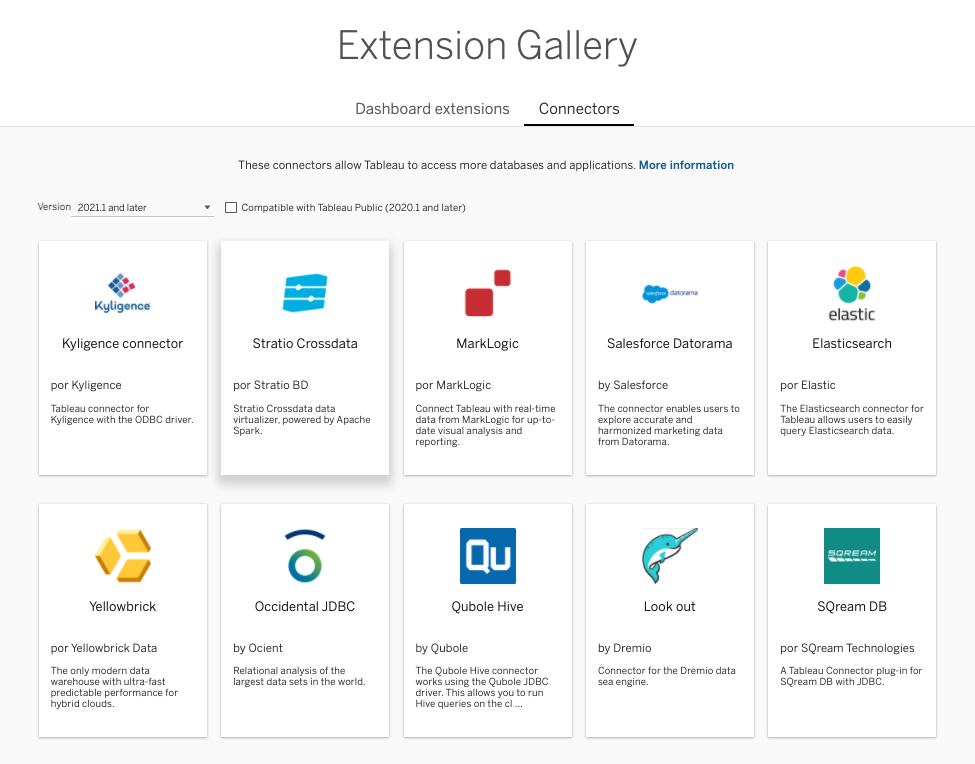 Connecting quick as lightning
Using the new Stratio connector in your Tableau environment is very easy. After downloading the connector from the Tableau Extension Gallery, simply place the connector in your connector directory, install the Stratio JDBC driver, restart Tableau and connect using the Stratio Crossdata JDBC connector. Virtualize your data immediately with Stratio Crossdata with Apache Spark technology!
For a complete technical overview of the connector please check out the documentation page. If you have any questions, please share them with us on support@stratio.com